The time is running fast, and it's a long time since I spent time on the Eliminator. Now, in the spring of 2009 I have decided that this car is going to be finished this summer. That means that I will give it top priority until it is back on the road. Last year I was stopped by some missing parts and some problems with wrong seat covers. In fact the seat cover story on this car is something else, and I am still waiting for a correct back seat cover to be made. Hopefully it will sooon be here so I can finsh the interior.

The first thing I did was to install the brand new Air Conditioner drier and condenser. When that was done I could start to work on the grille and headlight cover vacuum system. The grille needed some work and paint. It had some pitting, but nothing serious. Luckily the Eliminator grille is mostly painted flat black, so the pitted areas are relatively easy to fix. To the left the grille parts are hung up to get painted after they got some heavy layers of primer.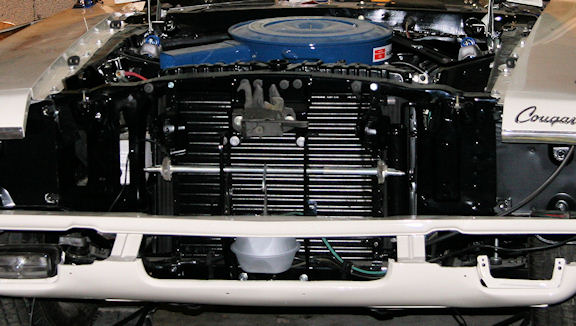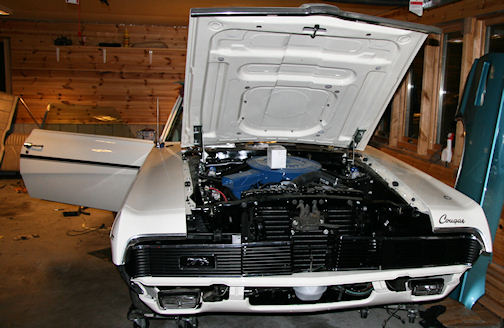 When I was going to hang on the bumper I found that I had two left hand outer brackets for it. The car had a dent iin the right front corner when I bought it and the right bracket was bent. I found a good one on eBay, and when I got it I never cared to check it out. Now I had no time to wait for a new one from the US so I decided to modify the one I got to fit the other side. It is far from easy, but can be done as you see in the picture to the left. Some of the welding had to be done with the bumper on the car to assure perfect fitness.

I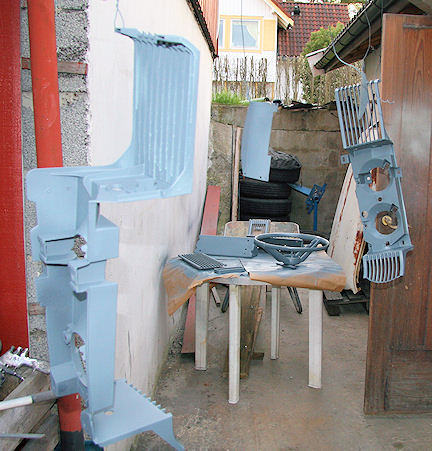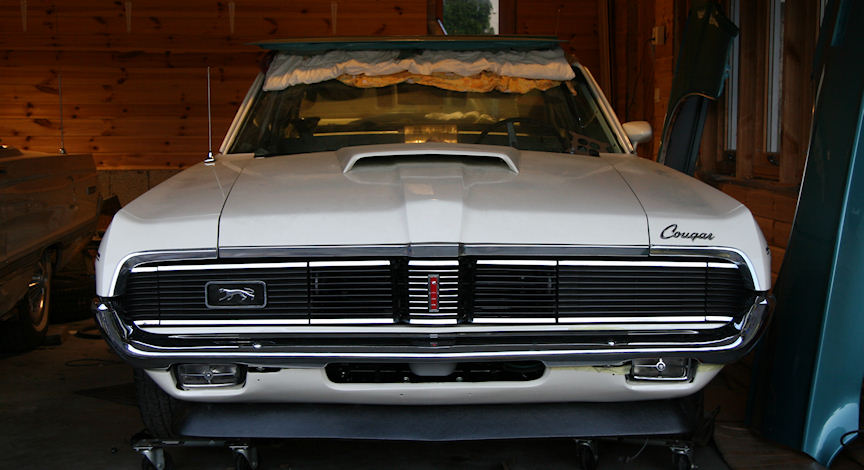 Here you can see the grille temporary installed and the adjustments can begin.

The grille center is brand new but I decided to give it a fresh coat of black paint as well so it would be a perfect match to the side grille pieces.


Here is a picture showing the grille, bumper, lower valance and the front spoiler installed on the car. I am very impressed by how well everytihg lined up after some work. Now I can start to work on what is under the hood. First of all I will hook up all the wires, water hoses, fuel lines and tansmission cooling lines. The rechromed front bumper is bought from
West Coast Classic Cougar
in Oregon, and the front spoiler comes from
John's Classic Cougar.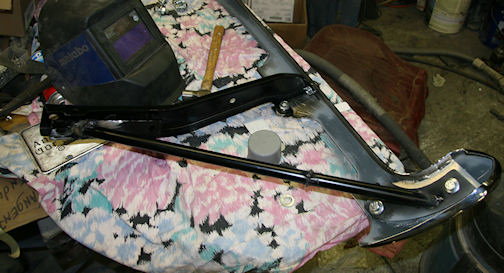 5
Last update
May 10th - 2009