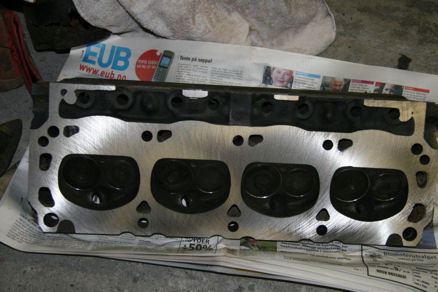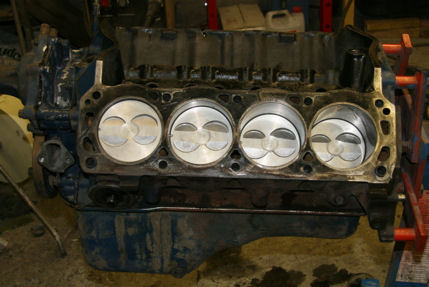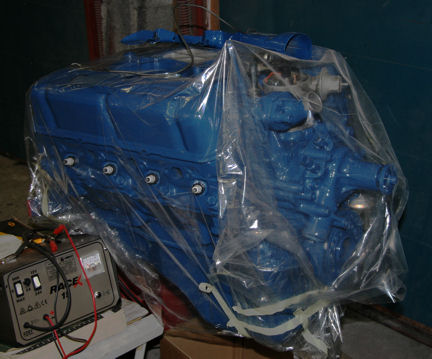 Now for the motor. It was in a sad condition and needed a lot more than I first expected. Anyway, the good things first. The cylinders were not bad at all and had very little wear. Same thing with the crankshaft. The cylinder block got a good cleaning, also in the water chanels. Then I honed the cylinder walls and had the crankshaft polished and installed with new bearings.Then I installed new cam bearings and put in an Edelbrock Performer cam shaft. I also used the matching timing chain set and a high volume oil pump from Melling. New std. specification pistons came from Fel-Pro
.
The cylinder heads were totally worn out, and I had to get a new head for the right side. Luckily I found one on eBay with the correct date code, so I bought it and had it rebuilt. The other side needed just a valve job and grinding to make it perfect.
I also put on a new delbrock Performer intake and a new water pump before the whole thing was painted. OK, I know the color is a little on the light side for a 69, but it still looks nice or what? Finally I wrapped it in plastic to protect it from dirt and dust until its going to be installed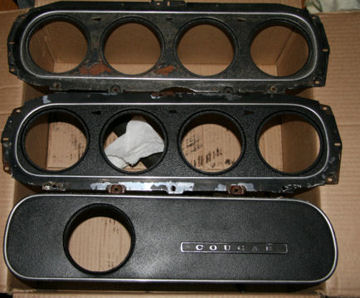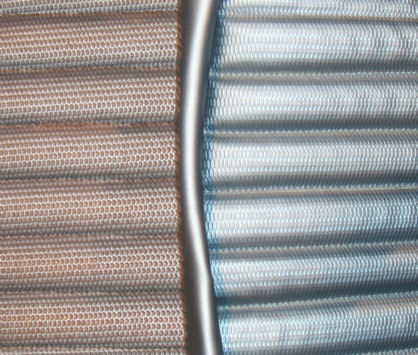 I also needed to pay some attention to the instrument panel and lower dash. It was rusty and needed new paint. I was lucky and found a correct tilt column for the car on eBay, and gave it a new coat of dark gun metal grey paint as well.
The camera case plate for the passenger side was missing and the one for the instruments were flaking off and rusty. I was not ready for spending $400 on ebay for each of these, so I decided to make them out of what I could get cheap. I spent some time experimenting with different types and combinations of structural paint before I found something that worked pretty good.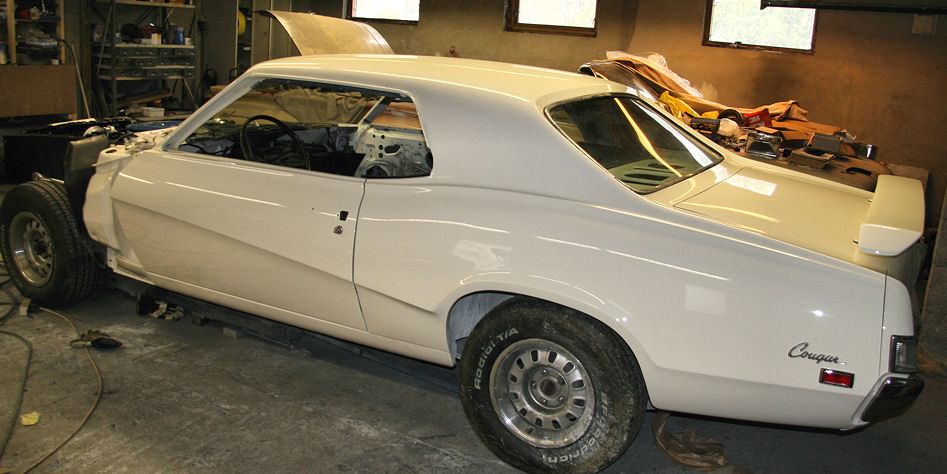 Here is the new "camera case" Eliminator plates. In fac they have been redone once aftter this picture was taken, and I would say they are hard to detect as face panels today. Original panel on top.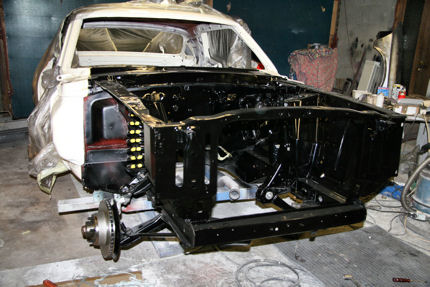 The first thing I wanted do when the car came home from the paint shop was to get the engine compartment painted.
I removed the front suspension and steering components to get the work done right.

At the same time I replaced the front springs with some stiffer and lower springs. I will also use a set of KYB GAS shocks to make it handle better. New ball joints and bushings are also a part of this job. All the brake parts have been replaced including the fluid lines, hoses and calipers.
To do this is the cheapest life insurance you can buy.

I have also restored the wirings for the engine compartment and lights before they were put back in the car. And all the small parts and brackets were repainted before I had the 351 Windsor and FMX transmission installed. One of the exhaust manifolds had a crack, so a good used one had been shipped fron Canada.

It looks pretty good now. There is of course a lot more work involved in this than what I tell here, but I guess that if you read all this you have figured that out yourself.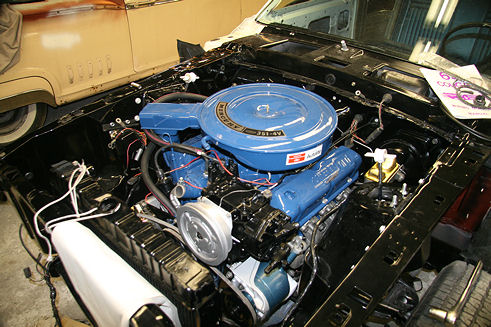 Here you can see that the windshield and the back window are installed. Also the headliner, carpet, AC and dash is back in the car. The trunk lid and rear wing is on and so are the rear bumper. Next thing will be to get the side glass installed. I have to admit that I am doing something that most people would say is totally outragious for a car like this one as I am installing a factory power windows set up in the car. I am just not a big fan of manual cranks. . .
The seats in my car were dried out from the hot California sun. So I ordered a set of seat covers from Ken's Cougar. They promised them to be 100% correct and to be done in 2 weeks, but it took them about 8 . . . And the result is not really much to brag about. The comfortwave structure is not even close to the original, but I can live with that. What I really disliked is that they used totally wrong foaming in the seat covers. For some reason they did not put in the thick foam in the head rest area, but added foam on the sides of the seat covers that shouldn't be there. The result is that the seat covers looked totally wrong and I am not happy with them at all .
I tried to complain to Ken's Cougar, and they pretended they did not even understand what I talking about, and told me they never had any complaints on their seat covers before. They insisted on that I must have used the wrong foam cushions for the seats and then they insinuated that I did not know what I was doing. Oh well, maybe I am just to picky on my Cougar?

Anyway, look at the picture below and I think you will understand what I mean.

Later I gave up on this upholstery kit and ordered a complete new kit from West Coast Classic Cougar. Hopefully it will make me more satisfied.
3